Landscaping is Deeply Rooted in Four Generations of Tillmanns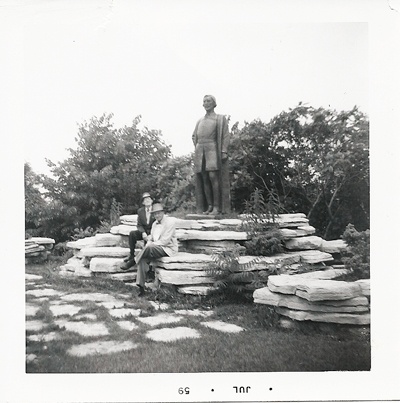 Since 1940 they have been recognized as masters of their craft. In northeast Wisconsin, you would be hard pressed to come across anyone unfamiliar with the Tillmann name.
The original Tillmann Landscape Nursery was opened in 1940, in Green Bay by Ernst Tillmann. Ernst studied, and was a friend of the well known landscape architect, Jans Jensen. Incorporating rock into the landscape setting was a natural fit for Ernst.
Following Ernst death at the age 42, sons Albert and Ron, took over Tillmann's . Albert's wife, Rosalie was in charge of bookkeeping. Years past and in 1972, grandson, Mike started working alonside his dad pulling weeds. After graduating, Mike started managing the Tillmann sod farms in Oneida and New Franken full-time. In 1986, when Albert retired, Mike (with his sister Kathy and brother Dave) started up a new endeavor of their own, doing lawn maintence and landscape jobs. Timberline Landscapes was born and business progressively expanded into commercial landscaping. Mike became sole owner of Timberline Landscapes while Dave and other sister Barb (with the help of their dad, Albert) took on a highly successful wholesale tree nursery. Timberline Trees now has clients spread throughout the midwest. Ron's son Steve then was the operator/owner of Tillmann Landscape. Meanwhile Ron's son Jeff, opened up Tillmann's Wholesale back in the 1980's. The wholesale operation is still run by Jeff with wife Connie, having 25 employees and greenhouses expanding across many acres. Today, if you live in Green Bay and cut your own Christmas tree, chances are you visited Ron, who is still in business.
Almost three decades have past and...

Timberline Landscapes continues to be blessed with a strong clientele. The art of hand-drawn landscape designs comes natural to Mike, however considered works of art to many. The gift of incorporating rock into the landscape also comes as natural to him as it did for his grandfather Ernst. With passion and knowledge, Mike thoughtfully introduces the best live performers for the job. From the master gardener who knows each and every tree, plant and shrub they want to see grow in their yard to the new homeowner who has no idea where to start, are all satisfied.
In 2010, Timberline Landscapes, located on Hwy 57, opened up Jessie's Garden Center. The garden center offers landscaping mulch, stone, trees, shrubs, perennials and specializes in ornamentals. Open arriving you'll see the passion for the "stonescapes" that Mike has mastered. Dry stacked walls and a waterfall surround the garden center where Mike and his wife Jessie spend their time doing what they love. The latest addition to the crew is Logan, Ernst Tillmann's great-grandson, pulling weeds for his father, Mike.